Nearby: The World's First Mobile Hostel for Music Festivals
03 May 2016
Music festivals have become a petri dish of inspiration. The community has vastly grown and with it, so have ideas. We are no longer living in the days of Woodstock where music was the only necessity. From eco-consciousness to top notch camping gear, music festivals have evolved and so have their patrons. It is not just what is within the music festivals that is changing but also how we enjoy them.
Every music festival offers different accommodation options with the most popular and common being on-site camping, a place where attendees can bond and form the community that is the basis of these events. However, camping is not for everyone. From scalding hot desert festivals to wet and soggy rained out festivals, Mother Nature shows no mercy for the festival camper.
While some venues are close enough to towns that offer hostels and hotels, this is not always an ideal option. In addition to the safety issues of having to drive from the venue to the hotel, they can often be costly or even booked. Many festivals do not even have the option of a hotel as they are too isolated and in this scenario, camping is the only option. From the innovative mind of Mihovil Grguric comesNearby, the world's first mobile hostel specifically designed for music festivals.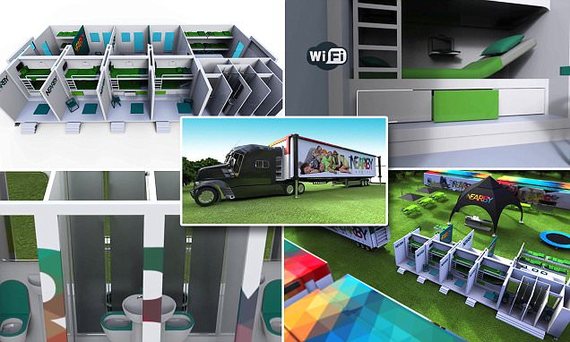 They have currently had their first round of fundraising campaigns which ended in mid April to fund the cost of building a prototype with the projected goal of being fully operational by the fall of 2016. The idea is to create a hostel environment that is comfortable, affordable and close to any festival no matter how isolated the venue. Becoming fully operational within 30 minutes of being dropped off at the event, Nearby is ideal not just for attendees but also for event organizers.
Each shipping container expands into nine insulated rooms with a total of 26 beds, two toilets, two sinks, and two showers that expend up to 70% less water than the average shower. The beds are designed to fold into a couch, double or bunk beds which maximizes on space and customizes its usage. In fact, everything in the rooms is foldable in case you need a little extra space to stretch out or have a dance party. In addition to the three-mode beds, the rooms come equipped with air conditioning, televisions, WiFi, drinks, snacks and even a fridge, creating a comfortable oasis for those intense festival moments that require a little sanctuary.
Another unique aspect of these mobile hostels it that they do not unlock with keys but rather with an app that is connected to your smartphone which is one less thing to keep track of whilst being caught up in the whirlwind of festival life. This same app also serves as a navigation device which ensures that you will always find your way back to camp. The downfalls to this smartphone-based system are what happens if your phone is lost, dies or if you don't have a smartphone at all? These are hiccups I'm sure the Nearby squad has or will work out.
Resourceful, innovative and well-designed, Nearby is reshaping the festival community by allowing attendees to get the optimal rest they need for the extreme energy expenditure that music festivals often require. I hope to find Nearby at a festival in the near future!
Source: Huffington Post.